Kanye West has become one of the great artists of our time because of this amazing debut album. Released at a time when no one saw room for a backpack, polo wearing, college dropout. Kanye finessed his way into Hip-Hop out of sheer will and talent. The LP is 76 minutes full of soul, humor and utmost confidence packaged with a Bear on the cover. No one saw this success coming… except Kanye of course. All of his albums are important and incredible in their own way, but most fans and critics agree that College Dropout is still his best work. Obviously, his debut hasn't loomed over his career like Nas and other artists, but everything he released after was, and will be, compared to this gold standard. Now I have the difficulty of ranking the songs on this classic from best to "worst." Worst being a relative term, as the worst song on here could be the best thing on countless other projects. The skits are obviously important to the tone of the album, but we'll leave those out. This isn't the definitive list, but my personal one. Please share yours on twitter or here if you'd like.
Breathe In Breathe Out (feat. Ludacris)
"Had a Ph.D., a Pretty Huge Dick"
Although Kanye wanted to do things differently with his album. He still stayed within familiar tropes of a traditional Hip-Hop record. So he needed something with some base and some bump. Although what makes this different is that funk he adds on a layer of the beat. This is Kanye trying to prove he can legitimately rap. He will never be as smooth as Jay and he lacks the raw talent Kendrick possesses lyrically. But he's witty, clever and conscious without being preachy. It works. Hearing this song and something like  Dark Fantasy prove he's come a long way.
Get Em' High (feat. Talib Kweli & Common)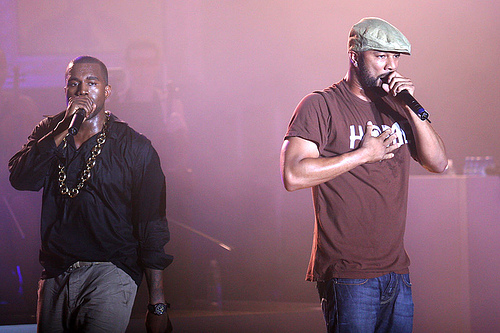 Another rap record. Here he does his best to keep up with two gifted rappers. And he does alright, but you can tell Talib & Common could kill him if they wanted to.
School Spirit "Told em' I finished school and I'm starting my own business. They said 'Oh you graduated?' No, I decided I was finished."
This song is more soul and it has a nice college-band feel. The idea that you need school to follow you dream is a myth that is dispelled time and time again. Kanye is a prime example of that.
We Don't Care
"... Cause this summer we ain't finna say 'next summer I'm finna'"
This is a song about drive and ambition. Using whatever channel you can access to do great things. However questionable that channel may be. Whether it's selling drugs or making burgers, we can all do great things if we put enough effort in… I should take my own advice.
Slow Jamz (feat. Twista & Jamie Foxx)
This song was a huge hit when it was released in 2003 and for good reason. A great soul sample is looped for Jamie Foxx, Kanye and Twista to cruise over. Kanye is as witty as ever with his famous Michael Jackson line and Twista is probably going off, but I still don't know what he's saying.
Family Business
A very emotional track about family. I don't listen to the track too often, but when I do I'm reminded of how good it is. It's as soulful as anything he's ever done. Plus we can all relate to the good and bad moments we have spent time with family.
The New Workout Plan
I might like this song more than a lot of people. Although it was a single it was never overplayed to me. The beat is great and that violin is doing backflips during the hook. Kanye is being a smart ass per usual, but what takes this song to another level is the auto tune outro. Plus the random "Work It. MOUTH. Juke It. MOUTH. Hump It. MOUTH. Chi-Town. MOUTH. Let's Go. MOUTH."
Through The Wire
Probably the first time the world paid attention to Kanye. It was the first time I took notice, and this video was a great visual for a great song. The story behind it is well documented, but it's still surprising that he did this with his mouth wired shut.
Two Words (feat. Mos Def & Freeway)
Mos Def kills the first verse, but that's no surprise. That was left for Kanye, who delivered his most gangster ass verses ever. He says "One neck. Two chains. One waist. Two gats. One wall. 20 plaques. Dues paid. Gimmie that!" Whoa! Freeway does his thing as he usually does and the chorus is epic.
Jesus Walks
Of course, this is as high as it is. On top of having a great conversation about religion and its place in hip-hop and society. He makes it a great song to listen to. Kanye succeeds where guys like Lupe fail because he doesn't let the song suffer for the sake of the message.
Spaceship (feat. Consequence & GLC)
An amazing sampled looped over a hook we can all relate to. Kanye's verse is great. Working at the GAP, being the token black guy and getting crappy checks. Consequence and GLC do a good job. This a great old school G.O.O.D Music posse cut.
Never Let Me Down (feat. Jay-Z & J. Ivy)
Really this is a Jay song with Kanye tagging along. This isn't a bad thing as Jay is in prime form for his two verses. Kanye gives a very heartfelt performance and J. Ivy gives a powerful spoken word in the middle. What more do you want?
All Falls Down (feat. Syleena Johnson)
"Then I spent four hundred bucks on this, Just to be like 'NIGGA YOU AIN'T UP ON DIS!'"
Anyone who thought Kanye couldn't rap need only listen to this. Wordplay and wit at an all time high. Coupled with an amazing hook by Syleena Johnson. He puts his own success into perspective when he raps "even if you in a Benz, you still a nigga… In a coupe"
Last Call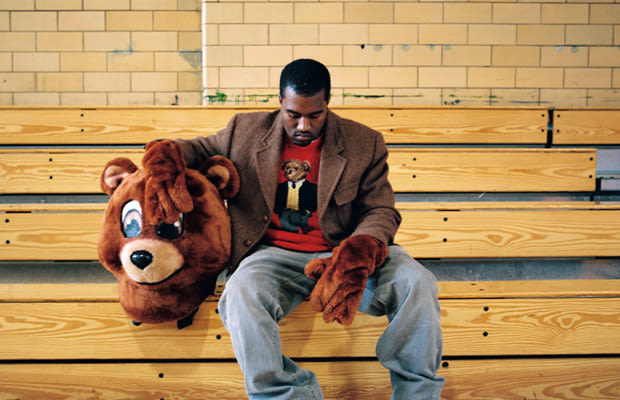 If you ever want to hear Kanye's journey from a college dropout to the newest member of the Roc-A-Fella team. Just listen to this 13-minute gem. Kanye saved the best for last as he raps lines he's probably been saving his entire life. He walks on the beat perfectly, only stumbling at the end of the first verse. The song is incredible not only for the narrative at the end but for the last verse.
"Brains, power and muscle Like Dame, Puffy & Russel. You're boy back on his hustle You know what I've been up to… Kill you niggas on that lyrical shit Mayonnaise colored Benz I push Miracle Whips" And obviously no one can tell Kanye's story better than Kanye. His rendition of struggling artist-turned-rapper is better than any VH1 Behind The Music doc can show us.