With DayTrill upon us, we thought we would share some obvious, but important, DayTrill Do's & Don'ts. It's going to be a great time and this is the way to guarantee that! See you Saturday.
DO: Dress To Impress
DayTrill has become one of the biggest events for young Rhode Islanders in a few short years. Not only has it taken over Rhode Island its now stretching out into the New England Area. For better lack of words "That's mad fucking people". So you're going to want to pull out one of your best, "This is light", "I didn't try too hard", but "damn I'm fly" outfits you have in the closet.
DON'T: Drink Too Much
If you plan on drinking a large amount at DayTrill, then do not get wasted beforehand. We have all passed out at least once in our lifetime. It happens but DayTrill IS NOT A PLACE WHERE YOU WANT THIS HAPPEN. I repeat DayTrill IS NOT A PLACE WHERE YOU WANT THIS HAPPEN. The internet is a scary place and the pictures and videos that go viral are remarkable. What I'm saying is don't be the post that goes viral!
DO: Buy Your Ticket
If You're Reading This It's Too Late.
DON'T: Wear High Heels
For you females please do yourself a favor and do not wear heels. What part of the name "DayTrill" says "this is a fancy event"? I've seen it before, and if I could slap that person's face I would have. Sneakers, sandals, shoes of any kind are fine, except for heels… don't do it.
Do: Shoot Your Shot
If there's a girl or guy you've been eyeing, on Instagram or you've seen them around and never got a chance to speak… SHOOT YOUR DAMN SHOT. I'm talking Michael Jordan's last shot over Bryon Russell to seal Game 6. I'm talking Kobe Bryant going for 81 over the Raptors. I'm talking Kyrie Irving over Steph Curry to seal the 2016 NBA Finals. This is your chance. What I like about DayTrill is that it isn't a party; it's a huge social gathering. If you've never been, there is music in the background, but you will be able to converse with people pretty easily. So, my advice is to just go for it.
DON'T: Fight/Argue
Plain and simple do not go to DayTrill to fight someone. Have some class, respect yourself and your mother by acting like an upstanding pillar of the community. Not only will you look like an idiot but you might get beat up and look like an even bigger idiot, or even worse a corn. Yeah, I said it a corn, you don't want to be a corn my boy that's a brand for life.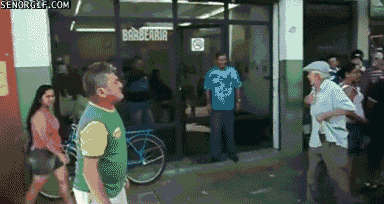 Don't argue with anyone, especially your significant other. You don't want everyone all up in your business possibly recording all that nonsense. Just give out that subtle look or pinch the person like "You gon get it when we're alone".
DO: Have Fun
This is an easy one. Let loose. You just got through a stressful work week and it's time for you to have some fun. For the ladies, twerk a little bit. Guys if you twerk, that is also fine, it is allowed, equal opportunity. Turn up with your friends or meet new people. I'm talking about going up to someone you don't know and introducing yourself, and if you're on the other side of this don't be stuck up. Be open to forging new relationships.
If you're alive the next day you can also come to THIS.
-HiLarryous