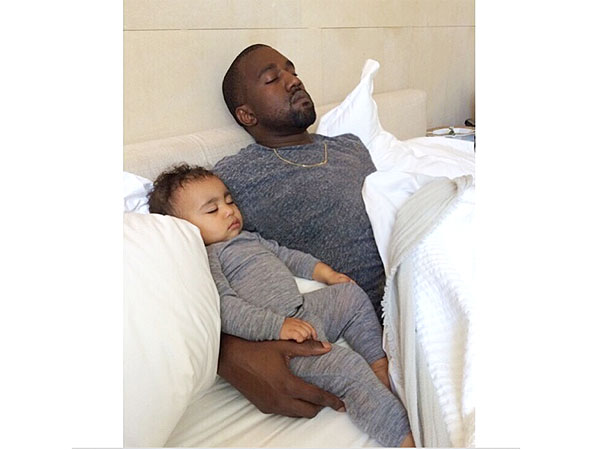 CUTENESS: North West turned one on Sunday! Kim and Kanye told E! News that they will be celebrating North's first birthday next weekend in LA with family. That didn't stop the couple from hanging out with their baby girl. Kim and Kanye were spotted in NYC with North all day, Kim later took it to Instagram, where she posted a picture of Kanye and North in matching outfits sleeping and captioned it "This is what life is about! Our baby girl turned 1 today! We played so hard they passed out while were watching the game! Happy Father's Day to the best daddy in the world! The way you protect her makes me filled with so much love! #BestDayEver #Twins #HappyFathersDay #HappyBirthday"
WEDDING BELLS: At the end of 2013 we heard that the rapper Eve and her baller boyfriend Maximillin Cooper were engaged. Since it's wedding season, these two didn't waste any time. On Saturday, June 14th, Eve and Maximillion said "I DO" in Ibiza. The rapper seems to be very happy, but everyone else seems to think she's getting marry quickly because Max is a multimillionaire. Regardless of how anyone feels the couple is married. Congrats to both of them and we wish them the best.
TOP PAID ATHLETES: Forbes released its 2014 list for "The Highest Paid Athletes Of the Year" and to no surprise Floyd Mayweather came in first at the top of the list at $105 million. Cristiano Ronaldo was number two at $80 million. Number three was a shocker to a lot of Kobe fans, when they realized that LEBRON JAMES made more money than Kobe and Tiger Woods at $72.3 million. This wasn't shocking news to me but a lot of people seemed surprised by the figure. The list continued with Lionel Messi at number 4 with $64.7 million, Kobe Bryant at number 5 with $61.5 million, Tiger Woods at number 6 with $61.2 million, Roger Federer at number 7 with $56.2 million, Phil Mickelson at number 8 with $53.2 million, Rafael Nadal at $44.5 million and Matt Ryan at number 10 with $43.8 million. This is only their income for the year.
MUSIC NEWS: This week Nicki Minaj dropped the music video to her latest single "Pills and Potions." Nicki first gave us a snippet of the video on "Good Morning America" where we first found out that the rapper The Game would be playing her lead guy in the video. Days later she released the entire video on Vevo. Hours later the internet was filled with memes from the video. Nicki and other celebs even joined in on the fun and posted some of these memes on instagram. This was the most talked about video all week and I am positive Nicki is happy with the results.
JOKES : Draya has come a long way in the public eye. When we first heard of this "Basketball Wives" star, she left her son at home for a week and he called the cops on her. Since then Draya has changed her ways. She is now the girlfriend of Cowboy's player Orlando Scandrick, owner of both "Fine Ass Girls" and "Mint Swim". She even got her son back! She seems to be on her way to the top, but people won't let her live. On Father's Day Draya Instagram'd the plate of breakfast she made Orlando…. And of course people came at her. They called it "The Struggle Plate." There was so much hate on her Instagram comments that Draya had to delete the picture. I personally like Draya and I think she changed for the better, and the media just hates it. They don't like the fact shes making smart changes in her life and are looking for any opportunity to bash her.
~J.K