On Friday Kendrick Lamar released his third studio album, Damn across streaming services. The hype started the minute praise died down for his last album, To Pimp A Butterfly. That same hype reached a fever pitch when he dropped The Heart Pt. 4 and HUMBLE. Now the music is here and we can start dissecting and interpreting. We'll all need a few weeks to really form our thoughts and opinions, but most people are already saying Kendrick is 3-for-3. I think I'd agree, but here are a few thoughts I had this weekend while listening to Damn.
A Different Kinda Dense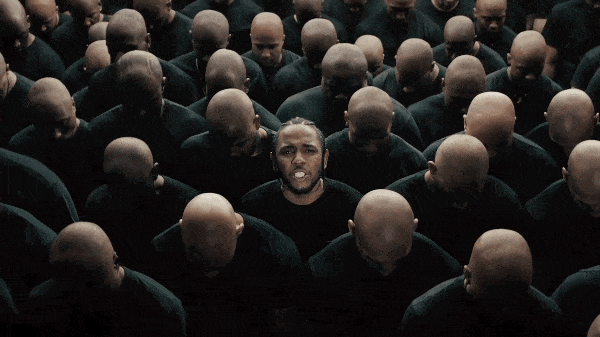 Around the release of TPAB, critics and fans praised the album for its density. From its lyrics to its deep roots in the African-American sound. Damn is just as dense, but I think Kendrick made a conscious effort to make it sound less complicated. I don't think he wanted people to look at this album as his dissertation, the way they looked at TPAB. In reality, it is just as complicated, introspective and dense as any of his other works. It's just an easier pill to swallow this time around.
GKMC=Lyrics, TPAB=Musicality, DAMN= ALLADAT
Obviously, very simplified and ignores the nuance Kendrick deserves, but this is how I see it. GKMC was a masterclass in long form storytelling peppered with moments of lyrical exercises, moments where Kendrick wanted us all to know he was the new best rapper around. TPAB was a shift for Kendrick. He collaborated with some of the most talented musicians in the industry to create a Jazzy rap album that worked perfectly. Here, with DAMN, Kung-Fu Kenny is firing on all cylinders. The beats are more Hip-Hop traditionally, but he's clearly broadened his soundscape.
Does He Have The Answers???
One thing that happens with "conscious" rappers is that fans look to them for answers and guidance politically and ideologically. Rappers like Nas, Lupe Fiasco, Common and even Jay Electronica struggle with this. They offer insight where many fans are just looking for answers. Fans often get frustrated when these rappers don't make things abundantly clear for them. I was certainly in this boat for some time. Kendrick is in that same conversation with the rappers mentioned, but what makes him so interesting is how clear he is about his uncertainty. He doesn't have the answers and never claims to. He's dealing with self-doubt and imposter syndrome the way many of us are. He's 29 and one of the biggest rappers in the world, of course, he doesn't know what economic structure black folks should adopt for our liberation. Even the Black Israelite message we hear throughout the album isn't an answer. It's merely a framework.
Fear Is One Of His BEST Songs Yet
I've enjoyed every song on the album, but Fear has been the standout track for me thus far. As the title alludes, it's all about fear. Kendrick's economic uncertainty, fear of losing his humble spirit, fear of losing his creative edge. All of this is on display and unpacked from three perspectives through the song's three verses. At first, he's rapping from the POV of a mom (maybe his), who is instilling fear in her son. The same fear that she herself has internalized through years of trauma and experience. In the second verse, Kendrick is speaking though a 17-year-old (the same son from the first verse), who is listing the reasons why he might potentially die on his way home. What makes this verse even more interesting is the deadpan delivery. Kendrick raps it with no emotion at all. The boy is numb to these fears. Maybe he's narcotized enough where he doesn't feel it anymore but can still articulate it. Either way, it's fascinating. Lastly, he's speaking as himself discussing the fears mentioned earlier. It's a great moment where he lays out everything he's worrying about.