Whether it's intentional or not, if you are a holiday procrastinator, you probably need some tips for getting everything done in time so you aren't exhausted on the big day. With a little creativity, some shortcuts, and a little bit of help, you can be ready in time for the holidays no matter how long you procrastinate.
Hit the Sales
Waiting to purchase Christmas gifts is not necessarily a bad thing; retailers often drop prices the closer the holiday comes because they want to get rid of their inventory. So, your procrastination may have paid off in at least one way this holiday season, and your wallet will thank you for it. Some sales are better early in the morning and late at night, so check for deals in your area. Some online retailers make free expedited shipping available for purchases of a certain amount, so don't assume it's too late to purchase online. Just be wary of purchasing gifts you don't need just because the prices are so low.
Do Last-Minute Decorating the Right Way
Last-minute decorating does not have to look last minute if you do it right. If you don't have time to find a tree, get it in a tree stand, and clean up the mess of needles, visit a local craft store and pick up a smaller artificial tree. Retailers often mark down Christmas décor right before the holiday, so you'll probably find a good deal and save yourself the hassle of getting a live tree. Another option is to purchase a small potted evergreen and decorate it with lights and then plant it in the spring.
Holiday tables and mantles can easily be decorated with pine cones or branches from outside, glass ornaments of various sizes, or candles nestled in groups with a few ribbons. You can string together holiday cards or photos from the past year to decorate your stair railing or mantle, and you can fill a few glass vases, cylinders, or bottles with cranberries or small glass balls. The key is to use what you have in your home or out in your yard, make a couple of centerpieces or accents, and keep your décor simple, yet festive.
Skip the Wrapping and Opt for Gift Bags
 Wrapping presents are often frustrating and time-consuming. This year, opt for gift bags instead. Gift bags look just as festive as wrapping paper, but you won't have to wrestle oddly-shaped gifts into paper or spend 20 minutes searching for tape. Discount stores and craft stores often carry gift bags in bulk so you may save some money while saving yourself time by skipping the wrapping paper this year.
Get Help Cleaning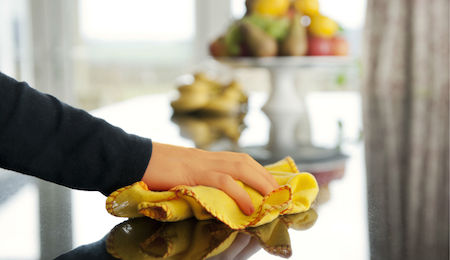 Most people wait until the week before Christmas to clean their house, so you're in good company if you have procrastinated in this area of holiday prep. If you have waited to clean and realize that you just won't have time to give it your best effort, however, hire a housekeeper. It's also a good idea to suggest to a loved one to hire a housekeeper for you right before Christmas if they've been asking what you want. Either way, you'll have a clean house and you won't have to lose time doing all of the cleaning chores that you despise.
Choose Tasty Food that Looks Time-Consuming
If you are hosting friends or family for a holiday meal, make things easier on yourself by choosing food that looks like it took you awhile to prepare but really just takes minutes to make. For example, try the foil-wrapped steak dinner. All you'll need is foil, steaks, onion soup mix, carrots, celery, potatoes, butter, and salt, and you'll have a main dish and sides all in one. While it bakes, you can be setting the table or making centerpieces of candles and greens on a charger plate.
If you need to make Christmas cookies but just don't have the time, call a local bakery and order for Christmas Eve, hire a friend who makes delicious cookies to bake some for you, or enlist the help of teenage relatives who like to bake and are on winter break from school.
Even procrastinators can enjoy the holidays when they find ways to save time and money by taking some shortcuts and making the most of holiday-help.
Image via Pixabay by stevepb