After listening to Drake's new album I decided to wait a week to write a thorough review on the album. So many people had opinions after just one listen that it was difficult to formulate an opinion on the project. After the smoke settled, I was able to hear my own thoughts clearly. I started to write a review on the highly anticipated album. It was not as cohesive as previous projects but more of a collection of good songs tied together by polished production. The variety in sounds represents the melting pot that Toronto is; the city the album is inspired by.
        The signature Drake sound was still intact but he took risks on this album that turned out to be successful.
The first track Keep The Family Close immediately brings you into Drake's world and mind. He begins the album singing but this time, it sounded more like a ballad than a typical Drake song. This was the most mature and vulnerable I've heard Drake in a while. The song was not just limited to his love life issues, it was about friends who turned on him and realizing why keeping family close is so important. This showed me Drake's growth not only as an artist but a person. This is the culmination of his experience eight years in the game.
Drake samples DMX's What These B****** Want & How It's Goin' Down for the hook for U With Me? I think this track is a clever and petty response to DMX saying, "I don't like anything about Drake" on Power 105.1 's The Breakfast Club back in 2012. Instead of dissing him Drake paid homage to the legendary rapper and sampled two songs that are some of his most popular.
Feel No Ways has a real chill feel to it. The song is about a relationship Drake ended to focus on himself. This obviously didn't sit well with the girl he was referring to. He sings "I was only gone for the last few months/ but you don't have the time to wait on me." Drake also sings about her getting revenge for his decisions.
Drake brings his most braggadocios rhymes on the album on the track "Hype". He addresses any beef he has with rappers, women and everyone. The lines "Last year I know you learned your lesson/ I can GPS ya if you need addressing/ Boss up I'm the bigger homie/ but I'm one year older than my little homie" can be aimed at Meek Mill.
On Weston Road Flows Drake brought back his vintage "Comeback Season Flow" we fell in love with.  Drake reminisces about his past and vents about his present. The song samples Mary J. Blige's My Life. Redemption & Fire & Desire are the most R&B sounding tracks on the album and show his consistent ability to fuse rap and singing on albums. He shows no signs of making a complete rap album anytime soon.
Drake experimented with new sounds on this album on With You, One Dance, Controlla, and Too Good. Coming off the success of Rihanna's Work, Drake capitalized by making some Dancehall and Afro Beat sounds of his own. One Dance is the standout from those songs he experimented on. The number 1 single features Nigerian Afro Beat star WizKid, this is his the second collaboration with Drake. The two first collaborated last summer on the remix of WizKid's Ojuelegba The song also samples UK house music artist Kyla. The melodies, keys, and drums in One Dance are sure to keep people dancing at parties and cookouts this summer.
In addition to trying some new things on this album, Drake had some tracks similar to If You're Reading This It's Too Late & What A Time To Be Alive with Future. Drake uses his playful spacey flow made popular on both mixtape on tracks ,9, Still Here, & Grammys, which features Future. Drake returns to his Houston influence on Faithful featuring the late Pimp C & new OVO signee dvsn. On Child's Play Drake goes to New Orleans for inspiration sampling New Orleans rapper Ha-Sizzle's " Rode That…" record. The album version of Pop Style does not feature Kanye West or Jay-Z, which is likely because they are a part of the streaming service Tidal.
Summers Over Interlude is the only track on the album that doesn't have Drake on it. Majid Al Maskati, from the OVO group, Majid Jordan takes us into a brief intermission with his soothing soulful vocals.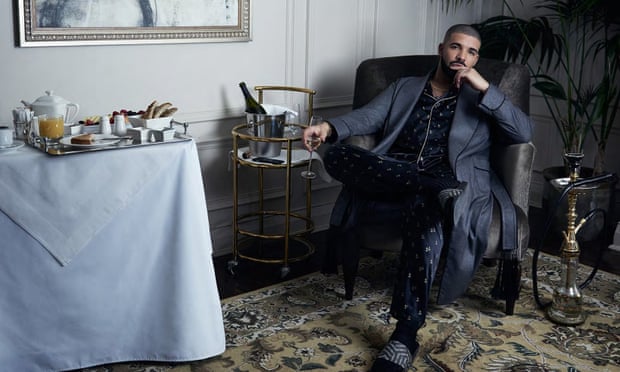 The outro begins with an infectious sample from The Winans' The Question Is. As soon as the sample stops a hard hitting beat, produced by Maneesh, drops. Drake starts to spit some of the best bars on the album. Some stand out lines from the track are "**** all buddy buddy with the opposition/ It's like a front of the plane, nigga, it's all business/But I haven't flown with y'all boys in a minute" & "My exes made some of my favorite music/I dated women from my favorite movies/Karma's such a thing of beauty/I'd share more of my story but you wouldn't believe it/It's far fetched like I threw that s*** a hundred meters." Overall I can say Views is a complete musical experience and has a little something for everyone. Although this is not what I expected from Drake after a beef with Meek Mill and the hype surrounding this album for over a year, I have learned to appreciate the album more after every listen. After selling 1.04 million copies it's safe to say Drake isn't showing any signs of slowing down. The cover of Views is symbolic to where Drake is right now in his career.